Has somebody ghosted you?  Want to get them to call back… or even reach out to you on their own?  I just used this idea with one of my advisors and it worked perfectly!
We went online and found directions on how to fold $1 bills into a boot.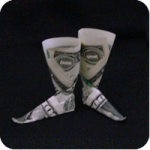 He then enclosed 2 boots in a small priority mail box from the USPO with a handwritten note:
Mama need a new pair of shoes?  Let's get going on our plan to reduce those fees and fix the things we talked about… and you'll have plenty of "found" money to buy whatever you like… or, you can keep giving it to your broker?  Call me  xxx-xxxx
After over a month of no contact… guess what he got?  A call… an apology for not getting back to him… and a new client.
Think out of the box!  Put smiles on people's faces!  When you do, people want to work with you.